Avoiding Hiking Hazards
April 2, 2021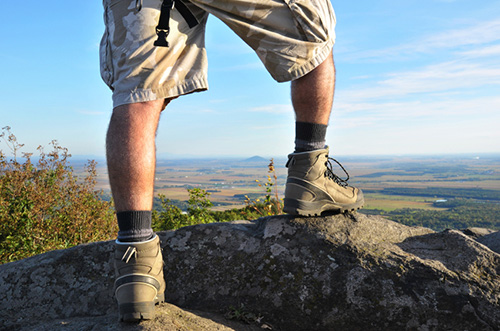 The snow is melting, and the trails are finally coming back to life! Hiking season is here again, and there's lots of beautiful trails to explore. But it's never wise to go hiking unprepared. Before you lace up your boots and head out, keep the following safety tips in mind:
Proper Attire – Hiking means plenty of time outdoors and lots of physical activity. Dressing appropriately for a hike makes things much easier for everyone. Your boots should be sturdy, waterproof, and comfortable enough to wear for an entire hike. Your clothing should be made of moisture-wicking material to help keep your skin dry and keep a normal body temperature. Even in warmer weather, layered clothing is recommended just in case of inclement weather. You should also wear a watch or any other time keeping device. Finally, be sure to wear lighter colored clothing, to more easily identify ticks or other insects.
Packing – A properly stocked backpack is essential to a safe and successful hike. Before you even hit the trails, you should make sure and pack all the required items. You'll want a complement of navigation materials, such as a map, compass, and GPS. You should always make room for hazardous weather gear, such as waterproof jackets, hats, gloves, and thermal undergarments. A first aid kit, flashlight (with extra batteries), and tools for fire (matches, lighter) are also necessities. Be sure to pack protein-rich and high-calorie foods, along with at least 2 liters of water per person and a water purification/filtration system. Sunglasses, sunscreen, and insect repellent also come in handy. Most importantly, you should always have an emergency shelter (tent, tarp, space blanket) with you.
Planning for Everything – A safe hike requires proper planning. It's always safer to hike as a group rather than by yourself. Before you begin your hike, plan where you're going, what time you expect to return, and check the trail conditions. Be sure to tell family and friends what you're doing and update them with any changes to your plan. Check the weather conditions of the day you're going, as well as the night and next day just in case you're unexpectedly stuck overnight. Be sure to have an emergency plan and know what to do if something goes wrong. Keep an eye on the conditions of the hike and be ready to turn back if anything takes a turn for the worse.
Finishing a hike is a great feeling and can form tight bonds among a group of people. By being prepared, you can ensure every hike is safe and rewarding. Happy trails to all you hikers!