Serving 25,000 People in the Greater Hudson Area Community
Greenport Rescue Squad Responds to Over 6,000 Calls per Year
The Greenport Rescue Squad was founded in 1936 as a non-profit community service organization. Generations of volunteers have put in countless hours of service to shape this organization into the successful agency we are today.
We have grown along with the greater Hudson area community we serve. For many years we were located within the Greenport Fire Department building on Rt. 23B. As the needs for our services grew, so did the number of ambulances. By 1996, we had outgrown our former home and built a new one at 3 Newman Road. This state-of-the-art facility houses all of our vehicles and equipment and provides expanded amenities for our staff.
Join Our Team!
Help Make a Difference
Are you looking to make your community a better place and do work that really helps people? Then join our growing team of professionals! We're always looking for motivated individuals of all EMT certification levels and availabilities to help us on our mission to keep Columbia County safe. Take the first step towards changing your life and improving the life of others, apply today!
Patient Info
We are dedicated to helping patients through some of the toughest times of their lives. For your convenience, we have made our forms and privacy policy available for you to download.
Donate
The kindness and generosity of the people we serve help us provide our community with outstanding customer service and excellent care, using state-of-the-art equipment. Your donations to the Greenport Rescue Squad, Inc. are greatly appreciated.
Anyone interested in becoming a NYS Certified EMT should attend the informational meeting on Wednesday, May 26th, @ 6:00PM at the Columbia County Emergency Services Training...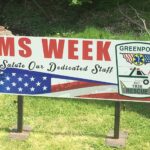 Message sent to Greenport Rescue Squad staff: At this time last year, we were talking about the COVID19 pandemic and how it was disrupting every aspect of our lives. Little did we...